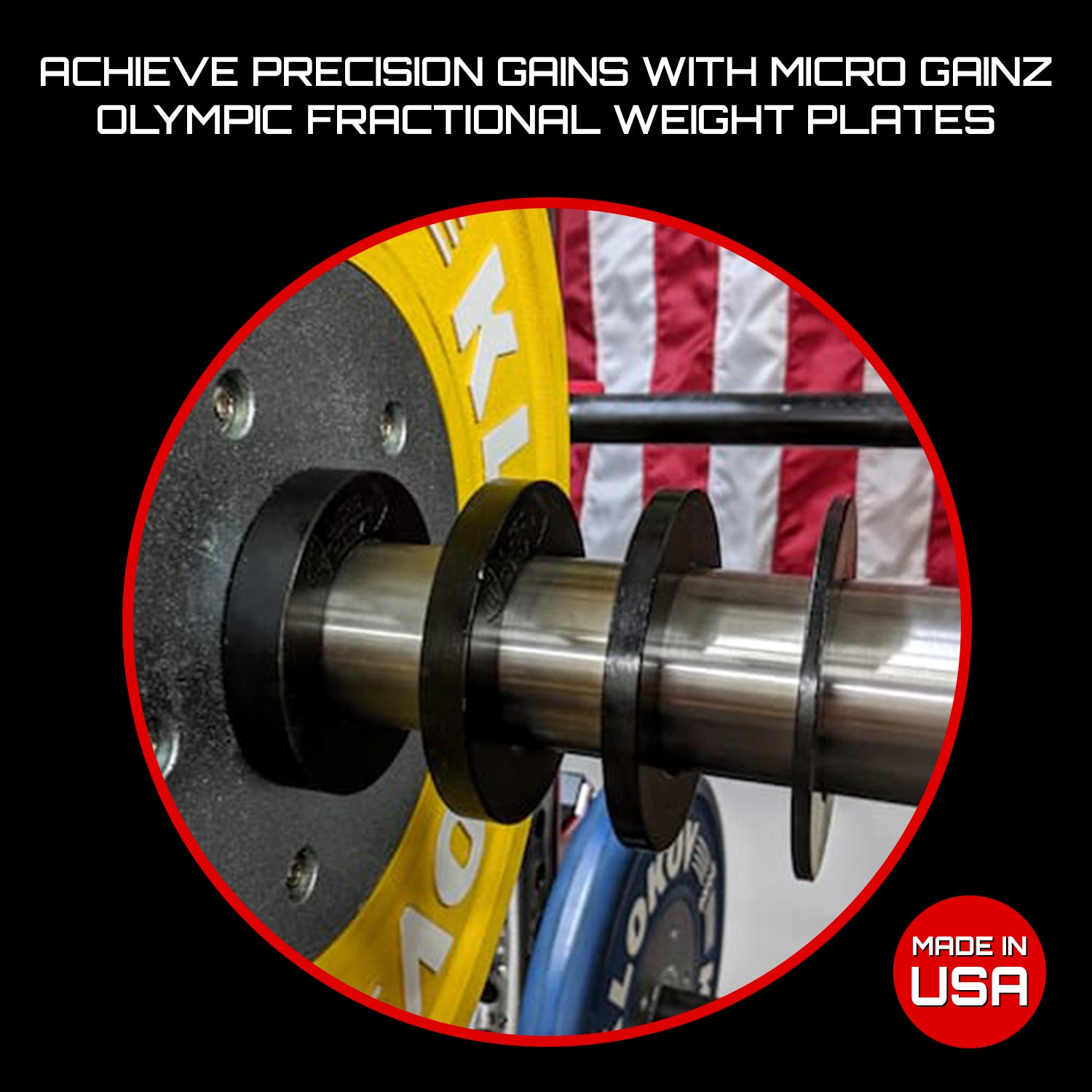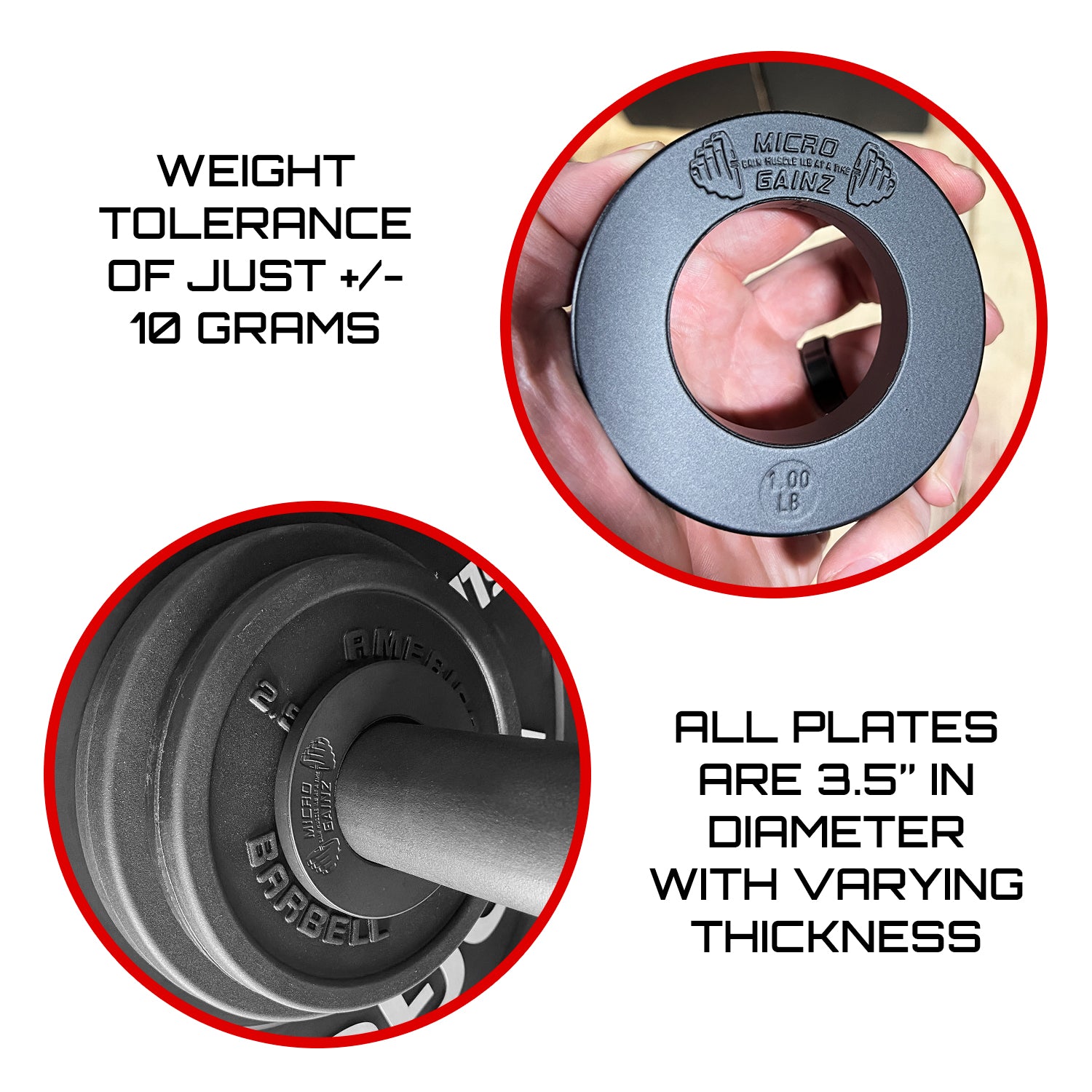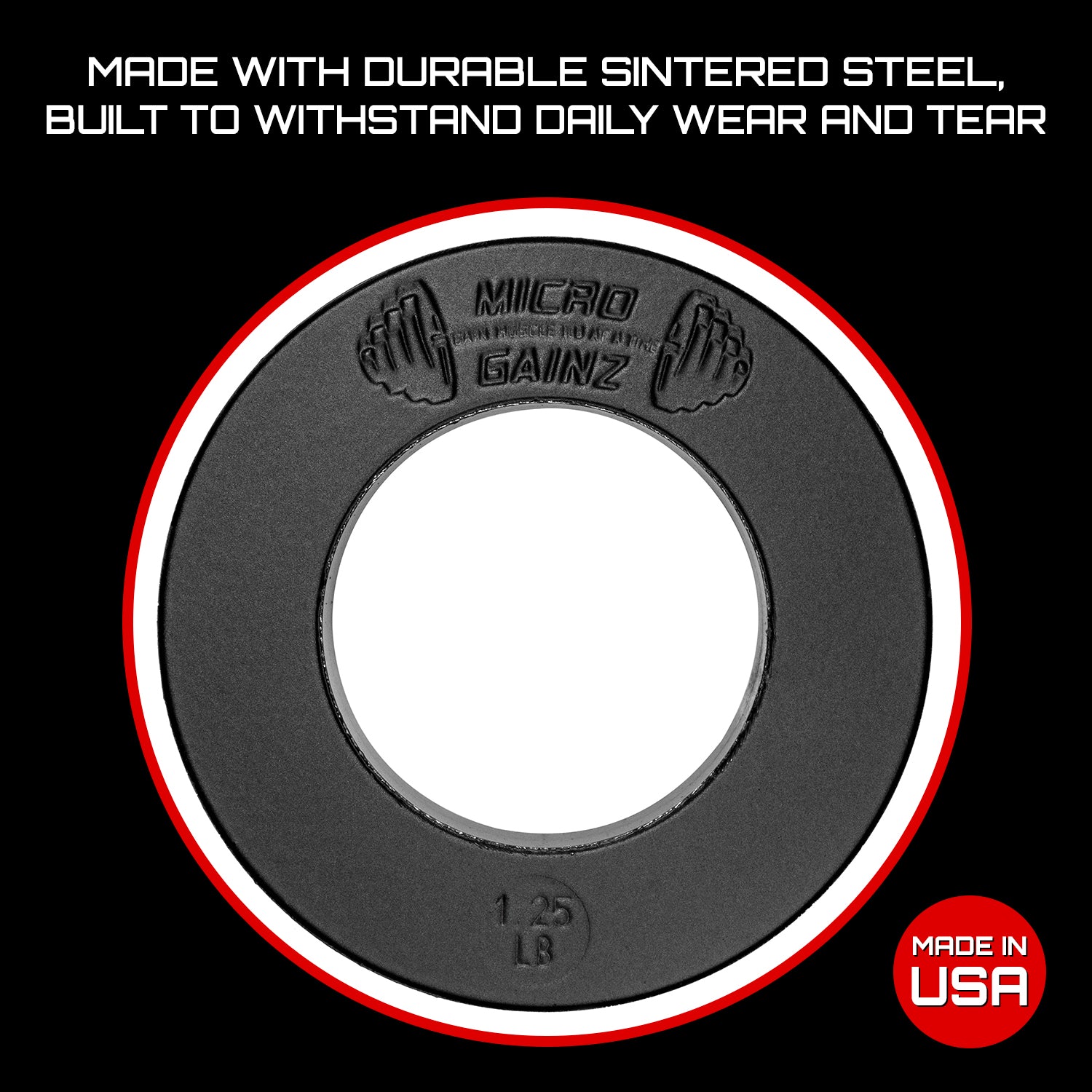 Micro Gainz Olympic Size Fractional Weight Plates Set of 10 Plates .25LB-1.25LB w/ Bag
Set Includes:
10 Olympic size micro plates 
2- .25lb plates

2- .50lb plates

2- .75lb plates

2- 1lb plates

2- 1.25lb plates

1- Micro Gainz Carrying Bag
Item Description:
Made from sintered metal
Plates accurate to specified weight by +/- 5 grams
Plates meet International Power Lifting Federation Guidelines for weight accuracy
Will fit 2" Olympic weight lifting bars
High quality black powder coated finish
All plates are 3.5" in diameter
Thicknesses of each plate are as follows:

1.25lb- .815"
1lb- .651"
.75lb- .481"
.50lb- .323"
.25lb- .164"

Made in Pennsylvania, USA
Free USPS shipping on all domestic orders. Orders can be upgraded to UPS Ground for an additional charge. Orders usually ship within 1-2 business days of receiving cleared payment. Lead times may be longer depending on demand, in stock, or sales.
Micro Gainz offers international shipping to several countries at checkout. You can email mike@microgainz.com for a direct shipping quote if you do not see your country on the selection screen.
We proudly offer a 30-day money back guarantee on all Micro Gainz products. Email all return requests to mike@microgainz.com then ship the product back within 30 days of purchase to the return address on the package. Once the returned product is received we will refund the full purchase price. Buyer is responsible for return shipping unless otherwise directed.
Love these. Really nice quality smooth metal etched with weight and brand name. Made in USA! Shipping was very fast. I really like the weight span it's perfect for bumping up your weight without risk of injury due to to much of an increase. (FYI don't be a dummy like me order two sets for your dumbbells. I only ordered one than had to immediately order another set so get two.) Definitely would recommend to anyone looking to make gains in a smart way!
Read More
The plates I ordered arrived on-time and well packed. I couldn't have asked for more.
The labeling on the plates is very difficult to read and all of them are black. The bag is black. I didn't realize how tedious it would be to identify the plates I want to load. I feel like the designer should have corrected these obvious issues before releasing the plates. I feel like the Microgainz should make and send out decent labels for these. If they do I'll adjust my rating. As these plates are now I recommend you pass on them.
Read More
Great set of fractional plates. They even came in a nice looking box and with a tote bag.